The sticky menu will be shown here
NEW AGE TECHNOLOGY
WiFi connected kitchen device – fully automatic and intelligent
Since we make a connected device, we make EveryCook open. Connect it with your smartphone, tablet, PC, Mac or even your Smart TV.
Through this connection EveryCook links up to our online recipe database,
offering you an endless support of ideas for your meal.
The hardware is not optimised to be cheap. EveryCook is optimised to be versatile, strong, easy to use and easy to clean.
Every feature we added has a reason and gets tested several times, e.g. every screw has it's purpose to enable you to become a kitchen hero.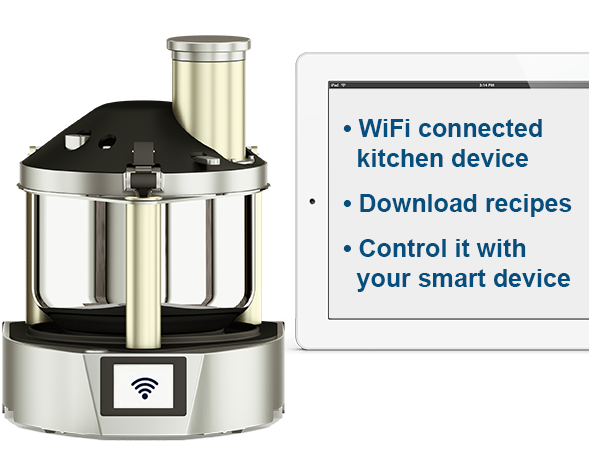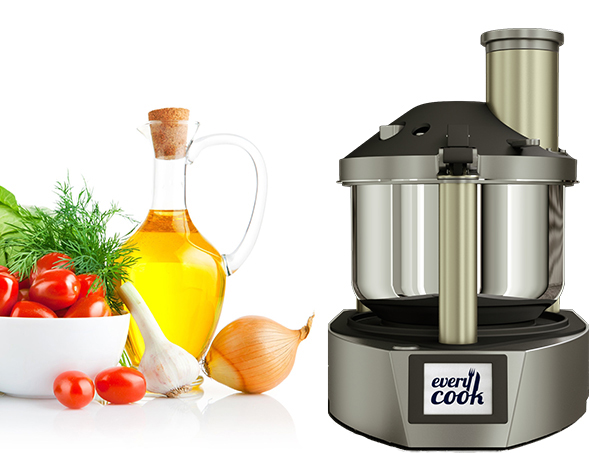 FOR EVERY COOK
Imagine, you just pour some raw ingredients into EveryCook, do something else for some time, and when you come back you can enjoy your wished dish!
Instead of convenience food, you can now have a healthy dinner with little effort. Use the time to check your emails or play with your kids instead of standing in the kitchen.
If you are an advanced cook, we give you two more hands for example to make your sauce. Our temperature regulation is very precise, so you can cook sous vide. Or melt the chocolate for your cake. Or fry some tempura as starter. The possibilities are endless.
EveryCook replaces at least 10 kitchen devices so you save a lot of space.
Let IT cook for you – we make you a kitchen hero.
RECIPES AS YOU WANT IT
Get the recipes you love, desire and want instantly into your cooking device.
Choose from a huge variety of recipes from every known kitchen style like Asian, French, Mexican or German.
As you make more and more dishes they will automatically improve and fit more and more your personal preferences and needs.
You have a personal fitness program from e. g. Freeletics or diet from WeightWatchers?
The recipes can be used directly and EveryCook cooks the right meal in accordance with your personal plan.
Your personal coach and personal cook are teaming up.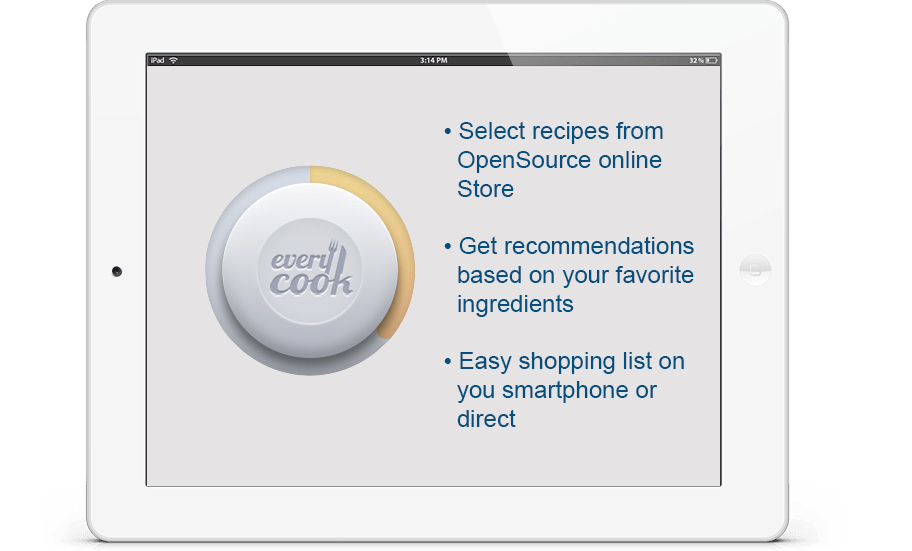 YOUR ONLINE RECIPES WITH DIGIMEALS
Find or create your perfect recipe and let the EveryCook prepare it for you.
EveryCook is not only a kitchen device but there is a whole software infrastructure behind it. The EveryCook hardware works together with DigiMeals and can be fed with digital recipes from a continuously growing library that you can also expand with your own personal recipes.
With DigiMeals recipes, the EveryCook device sets all temperatures and times correctly. It will automatically calculate the amount needed for each ingredient and tell the EveryCook scale how much you still have to put inside and when to stop.
The recipes also contain nutritional information and therefore the EveryCook is a perfect assistant if you are on a diet or want to eat vegan, vegetarian, halal, etc.
The EveryCook will also learn your taste: If you think it was too spicy, too much per serving or not enough, to overcooked or undercooked then you can give feedback and the recipe will be improved just for you!